The team at Dorset Council tell us about their Embedded Digital Champions programme, which saw them train more than 900 frontline staff and volunteers, so they could better help local residents use digital to support their wellbeing.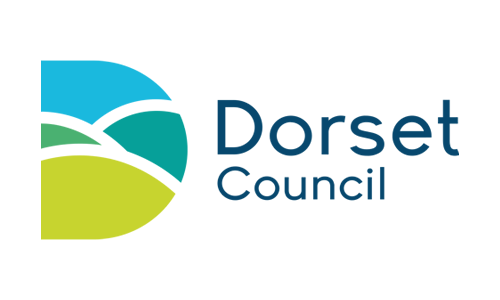 The challenge
Challenges such as the gap in digital skills, as well as the economic means to access devices and online services, presented a real risk of increased inequalities because of the pandemic
Donald Tata is an Assistant Care Manager and Occupational Therapy Assistant for the Sight and Hearing Team in Bournemouth, Christchurch and Poole (BCP) Council's Adult Social Care Services and is one of Dorset's Embedded Digital Champions (EDC).   
Donald's team supports with people who have sight and/or hearing difficulties.  Donald was drawn to the embedded digital champion programme as it offered an opportunity to strengthen the support he provides to clients, who increasingly need help staying connected and getting online.   
"The world is moving online," said Donald, "and things constantly change and develop. During the COVID lockdown, we encouraged people to do things online.  For example, it was essential for people to keep in touch with their families and peers during restriction measures. And, in some cases it was the only way to access various services, do online shopping and connect with support groups or social activities. However, we often found that the people we were working with lacked the digital skills and confidence to get online."
The solution
In 2021 Dorset Council introduced its Embedded Digital Champions programme.  Drawing on learning from other areas, the programme aims to upskill frontline staff to assist residents with challenges in getting online and gaining essential digital skills.   
Dorset set a target of 1000 staff and volunteers to recruit and train by 2023, based on best practice for its population size and demographic¹. The team defined a training course that offered a blend of Essential Digital Skills training alongside people skills to help engage and support residents. 
Project lead Sarah Brown said: "Initially the training was delivered in two-hour sessions over 6 weeks, but the attendance was poor, with staff unable to commit to the full 12 hours. After gaining insight from Cornwall, I introduced a shorter model of two-hour sessions over 3 weeks which saw increased uptake. 
"Simultaneously we offered bespoke versions of the training, recommended by Cornwall, providing something that worked for teams rather than a one size fits all approach. For example, including ESOL specific resources for an organisation who support asylum seekers.  We also adjusted the model for teams who couldn't commit to releasing staff for 6 hours." 
During the three training sessions, Donald was also able to improve his own essential digital skills, "I already knew how to support people to make their computer or digital device more accessible because this is part of what our team does," said Donald.  "However, I didn't know some of the things covered in the training around information security, cybercrime and how to stay safe online. I was able to bring this learning to my clients.  There was also information about other services and support for residents which was valuable, such as those provided by banks and AbilityNet, and I've used that to help or refer some clients." 
To better support its Embedded Digital Champions, the team ran 'Digital Coffee Breaks'. These monthly, informal 45-minute virtual gatherings offered a way of continuing their digital skills development beyond the initial training. These include a project update, updates on relevant projects and a guest speaker. Examples of topics included how to use social media and stay safe, cybersecurity, and digital accessibility. Since they started 15 months ago, attendance has grown from an average of 7 people up to 25, plus those that watch on catch up.  
Donald said: "I think digital coffee breaks enhance our skills and our understanding of how things work.  We stay informed about digital developments and understand what services are now available online and how to help our clients access those.  It's helpful for us as practitioners, because then we can relay this information to the people we support, and to their carers and families who also benefit for improving their digital skills and access too." 
The result
Since June 2021, Dorset Council has trained 903 staff and volunteers in total to be embedded digital champions.  In the survey at the end of the training programme, 75% of those who answered the question said they feel more confident in supporting their clients.   
In particular, Dorset Council's children's team made a condensed 2 x 2.5 hour version of the training mandatory for its team of around 800. The team received a training session focussed on Essential Digital Skills and another with a guest speaker from Dorset Police Safer Schools team with content particularly aimed at staff working with children. 
During a recent survey that took a snapshot over a two-week period, when asked how many people they'd supported and what the most common topics were, the embedded digital champions responses indicated: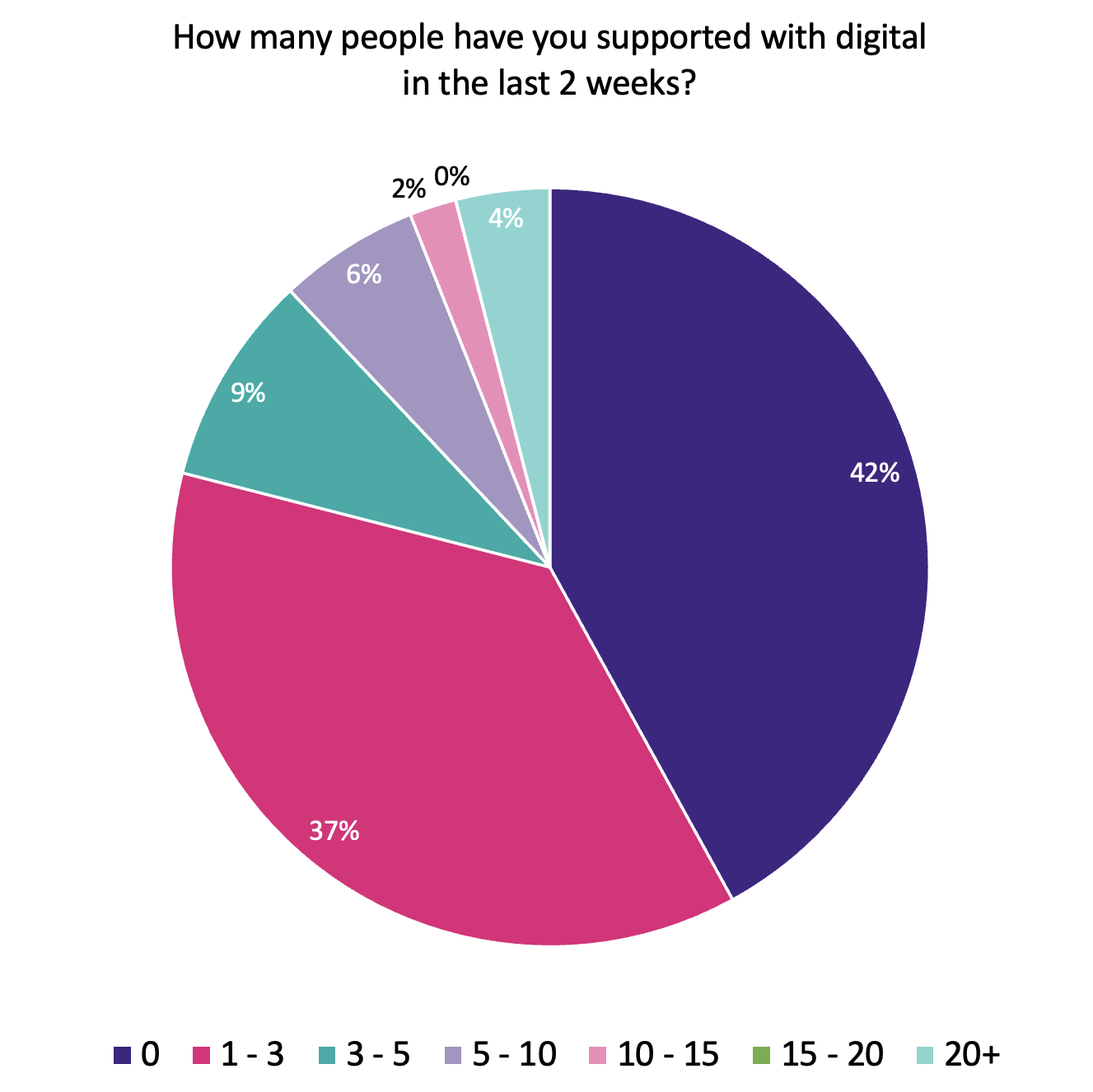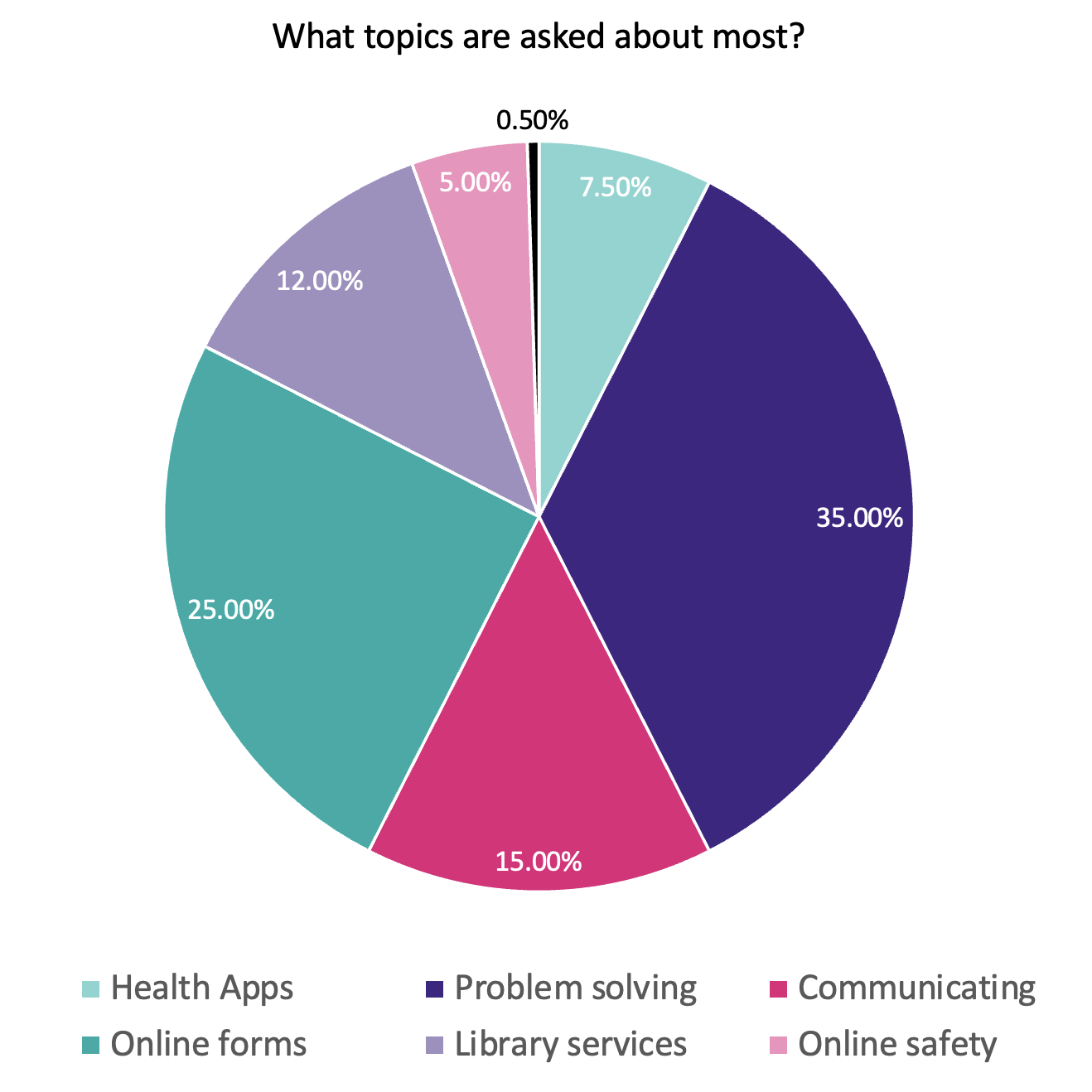 As someone who already saw the value of using digital as part of daily life, the programme reaffirmed the importance of digital for Donald. He said: "I know digital can be very, very helpful for people to manage many aspects of their lives. It can improve their access and help them stay connected, which has another overall impact on their wellbeing. I've personally seen cases where people feel more isolated if they're not able to access these online services. So, I think it's important helping people to get online and have confidence in using as many different digital services as possible."
About
The Embedded Digital Champions project is part of Digital Dorset. Since it was set up the team has run a programme of initiatives focussed on equipping residents and the workforce to have the essential digital skills needed for life and work.
To contact Digital Dorset please email digitaldorset@dorsetcouncil.gov.uk.
1. 46% of Dorset's 379,800 residents live in rural areas.  It has a large older adult population, with a median age of 50-55, more than 10 years higher than the national average. 11 areas fall within the top 20% most deprived nationally, 66 areas are in the most deprived nationally for access to housing and services and 25 areas in the most deprived nationally for education.  Taken from Dorset's 2022 JSNA narrative and The Indices of Deprivation 2019 a summary report for Dorset.