FutureDotNow has published a major new call to action for government, business, and civil society to bridge the digital skills gap.
'The UK workforce digital skills gap: Why closing it matters and a roadmap for action' comes from FutureDotNow, with insight from DSIT, DfE, DWP and the Cabinet Office, support from Deloitte, and input from more than 20 leading businesses.
The FutureDotNow roadmap lays out three distinct areas of action for government, industry and civil society, asking for greater co-ordination from government, and for more businesses to deliver workplace training.
Building a workforce powered up with essential digital capability is critical to creating a higher skilled economy and fulfilling national ambitions. But too many are being left behind.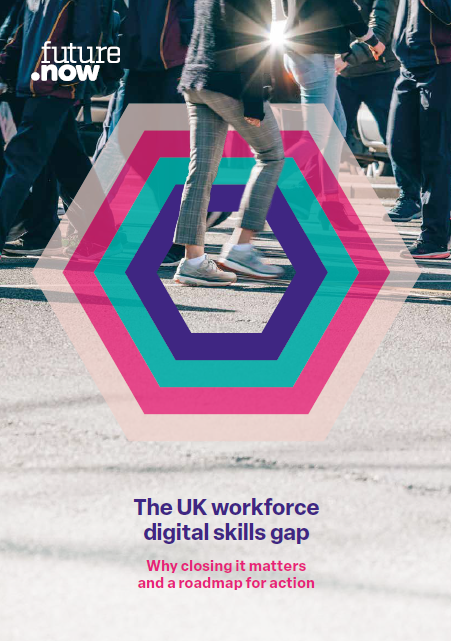 This week we publishes a major new vision for national action on digital skills in the UK workforce – 'The UK workforce digital skills gap: Why closing it matters and a roadmap to action'. 
The roadmap calls for urgent action to make sure the UK workforce is not being left behind. It lays out three distinct areas for action and makes 10 clear recommendations for government, business and civil society. 
Produced with cross government and industry input, the roadmap is the culmination of the work of FutureDotNow since our charity was established by industry in 2019. 
The workforce digital skills roadmap lays out three clear areas for action:
It calls for greater co-ordination across government and highlights the urgent need for national strategy on essential workplace skills.
It calls on all businesses to train people in the Essential Digital Skills needed for work.
It calls for collective action, across government, business and civil society to create a culture change that encourages people to develop essential digital skills.
Liz Williams MBE, FutureDotNow CEO says:
"Our world is increasingly driven by digital. Technology is at the heart of realising the UK's productivity strategy, but we are leaving people behind. There are significant Essential Digital Skills gaps across the working population, in every sector, nation and region, and in every age group.
"We can realise the huge benefits of tech, for individuals, businesses and the nation. But urgent action is needed now, by government and industry. If we boost the digital capability and confidence of the UK's workforce, we can capitalise on the wealth of opportunities that lay ahead.
"The FutureDotNow roadmap has been developed with expert input from industry and government and is based on four years intensive work on this subject. The actions we lay out are crucial to driving the change our workforce and our country needs."
Sir Peter Estlin, Chair of FutureDotNow. Sir Peter says:
"The gap in basic digital capability in the UK's workforce is real and huge. It presents both risk and opportunity. It's holding the nation back, affecting productivity and business resilience at a time when the economic outlook is challenging, and the nation is looking for answers. We need to take action now."