We know that there are 11.3 million people in the UK without the essential digital skills for life and work. We also know that there is a huge quantity of excellent basic digital skills training available from a wide range of providers, including many within our coalition. So what are we missing?
The issue isn't a lack of digital skills training, but rather, it could be a lack of motive that is holding us back. There are a multitude of reasons why a person might not jump at the chance to improve their digital skills. To help overcome these barriers, we first needed to understand them.
We posed this question to the coalition and Oliver Wyman offered to do a six week piece of pro bono work to investigate the motive gap. We tasked the Oliver Wyman team with finding out what is stopping people from taking advantage of available training and how we as a coalition can help to motivate them.
By undertaking a thorough review of existing literature and interviewing a multitude of relevant parties, the team identified a set of key themes: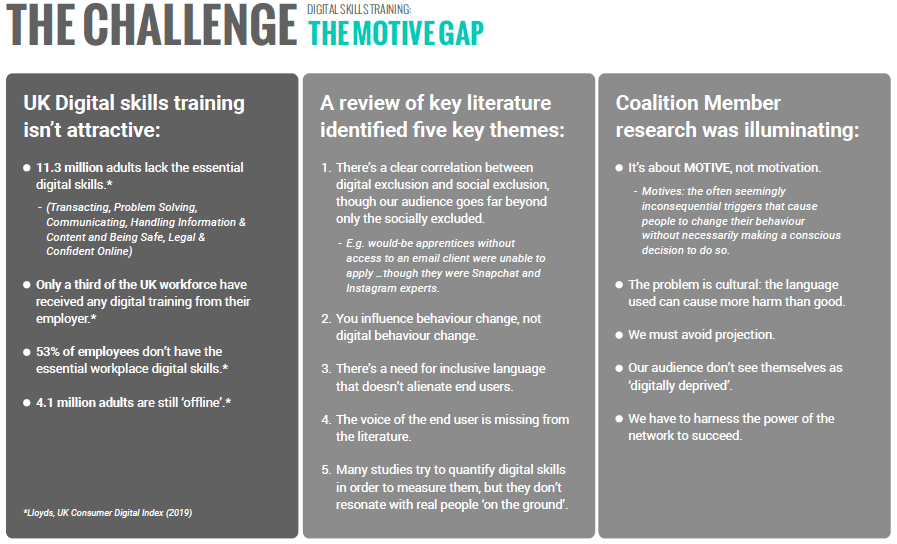 The Oliver Wyman team took all they'd learnt from their research and used it to inform a set of key principles and recommendations, providing guidance on what to do and not to do when shaping digital skills initiatives.