Earlier this month, we launched
FutureDotNow's roadmap for national action
on the UK workforce essential digital skills gap – a gap that affects over half of working age adults.
The roadmap brings together what FutureDotNow has learnt over the past four years working in partnership with our 200+ members, and documents what's needed to deliver real impact on capability levels.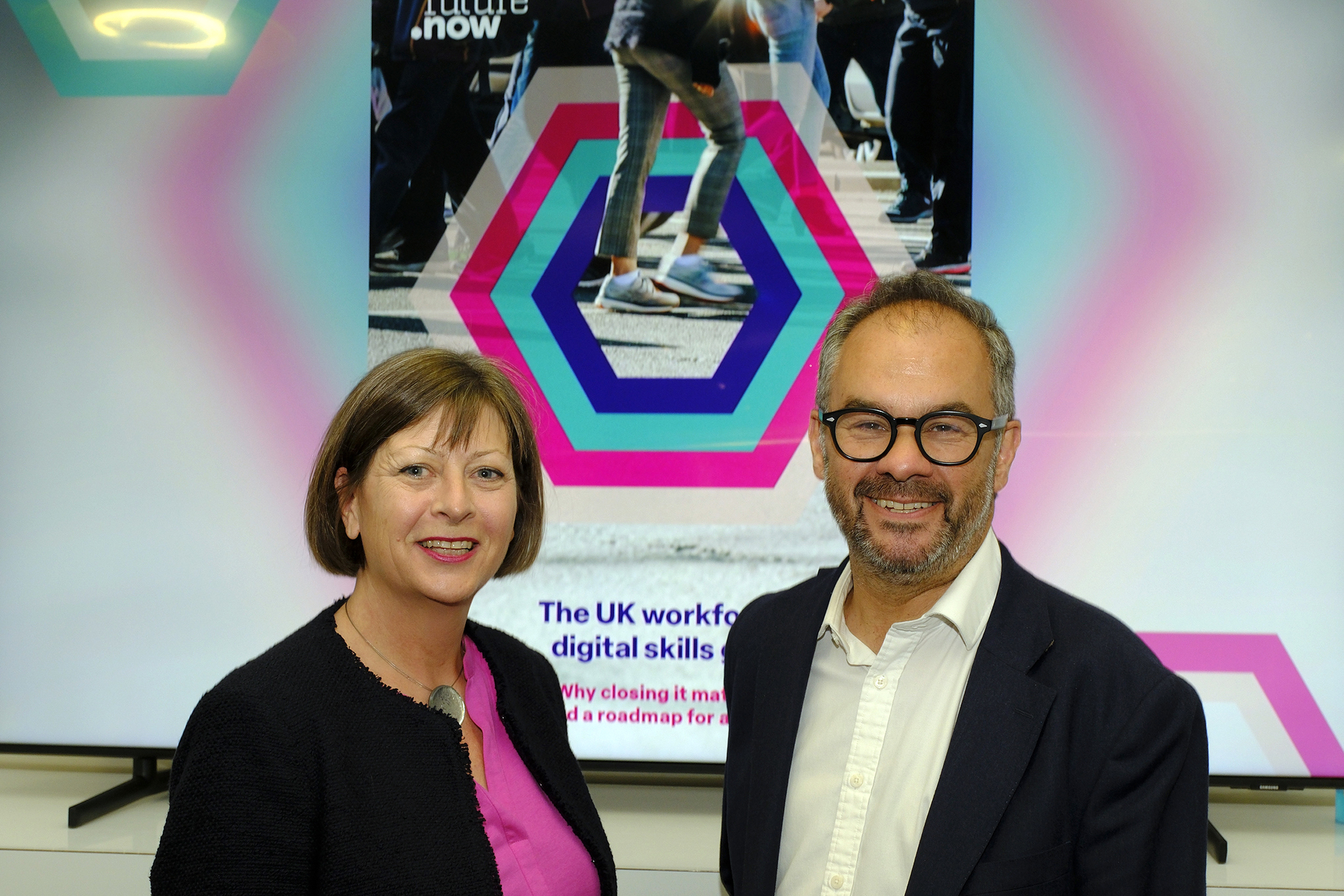 Liz Williams MBE and Paul Scully MP, Minister for Tech and the Digital Economy
Whilst it doesn't pretend to have all the answers – this is a complex agenda – it is clear on the best next steps for government, industry and civil society to help people build the digital essentials for work. And we'd love you to join with us to make that change happen. 
This matters to us all. Building a workforce powered up with core digital capability is critical to the economy, to unlocking personal prosperity, and to business productivity. 
Understanding the gap in Essential Digital Skills
It can be surprisingly challenging to know what's meant by 'digital skills' (something I was quizzed on recently when giving evidence to the House of Lords). One person might be talking quantum and AI; another the digital skills to access your payslip or enter overtime on-line.  
FutureDotNow is laser focused on a particular part of the puzzle – Essential Digital Skills. The 20 essential tasks defined by government and industry in the Essential Digital Skills Framework that everyone needs for work, regardless of where they live, or what they do.  
And the framework can be a crucial tool. As the Digital Minister, Paul Scully MP, pointed out at the launch, consistency of language can be crucial to driving change.  For us to make a real impact, there must be a common understanding of the specific action required and what true progress looks like. 
The scale of the skills gap
Today, the position is quite stark. We are leaving people behind. People in every sector, every nation and region, and every age group.  
The latest data shows only 41% of working age adults can do all 20 work tasks. Things like updating security settings and accessing payslips online. Genuine essentials for work today. 
That leaves c.23 million people across the UK unable to do all 20 tasks. Almost 60% of the workforce! 
That's 23 million people who would benefit from some targeted upskilling. To help them become secure in all these core digital essentials and powered up to be truly digital capable and confident, able to keep growing and keep pace with technology. 
If this isn't a red flag call to action, I don't know what is.
Roadmap for action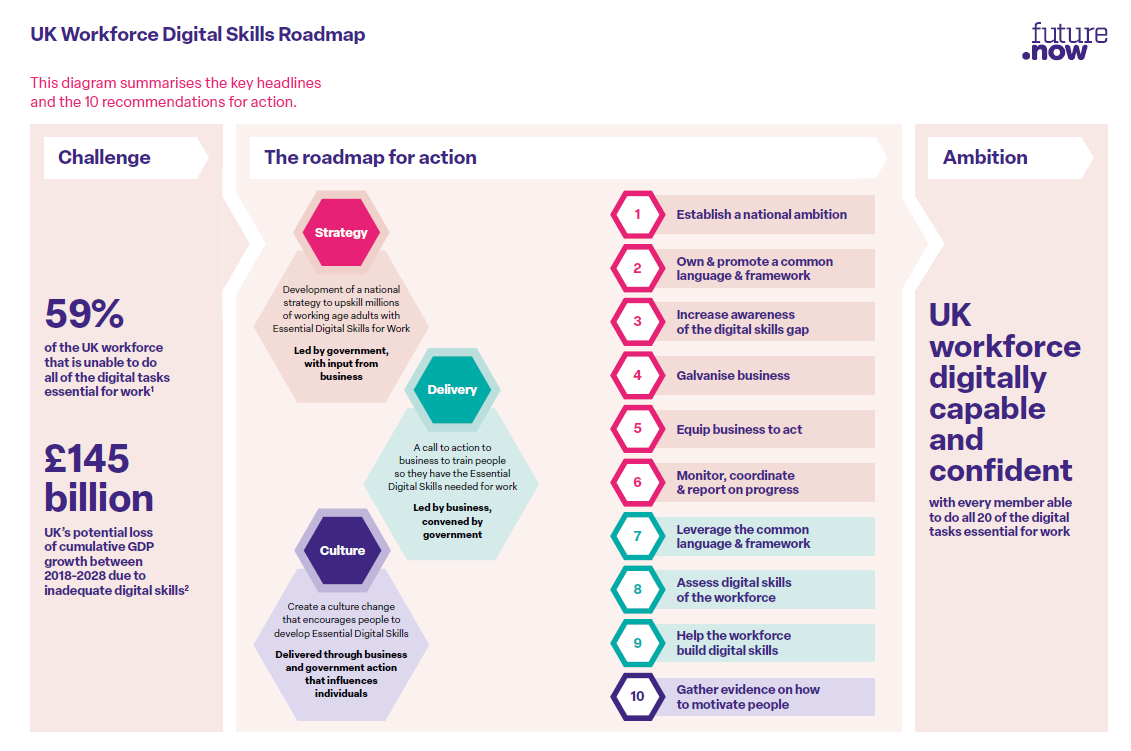 FutureDotNow's 10-point roadmap calls on government and policy makers, business – frankly everyone and anyone who can help – to come together to equip the workforce with these digital essentials. 
This is about training millions of everyday people who now work in a world powered by digital, so they build the digital basics needed to thrive today and in the future.  
Our 10 recommendations are grouped into three territories: 
Strategy.

National or cross-industry levers that can unlock the ability to create impact at scale. 

 
Delivery.

A call to action to business to train people so they have these digital essentials. 

 
Culture.

It also

opens the door on a lesser-known part of the challenge. The culture change that underpins the UK becoming a truly digital society, where people are encouraged to build their digital skills.

 
Hearing from the experts 
At the launch of the roadmap earlier this month, the energy in the room was infectious as we heard from leaders from across government, business, policy, and academia about the importance of the topic to business, to individuals and to delivery of the government's tech superpower ambitions.     
And the message from all our speakers was clear – this is a significant issue that's showing up in business daily, whether from the perspective of the NHS, banking or small and medium enterprises.  And it's one the Digital Minister, Paul Scully MP, was clear the government is serious about addressing.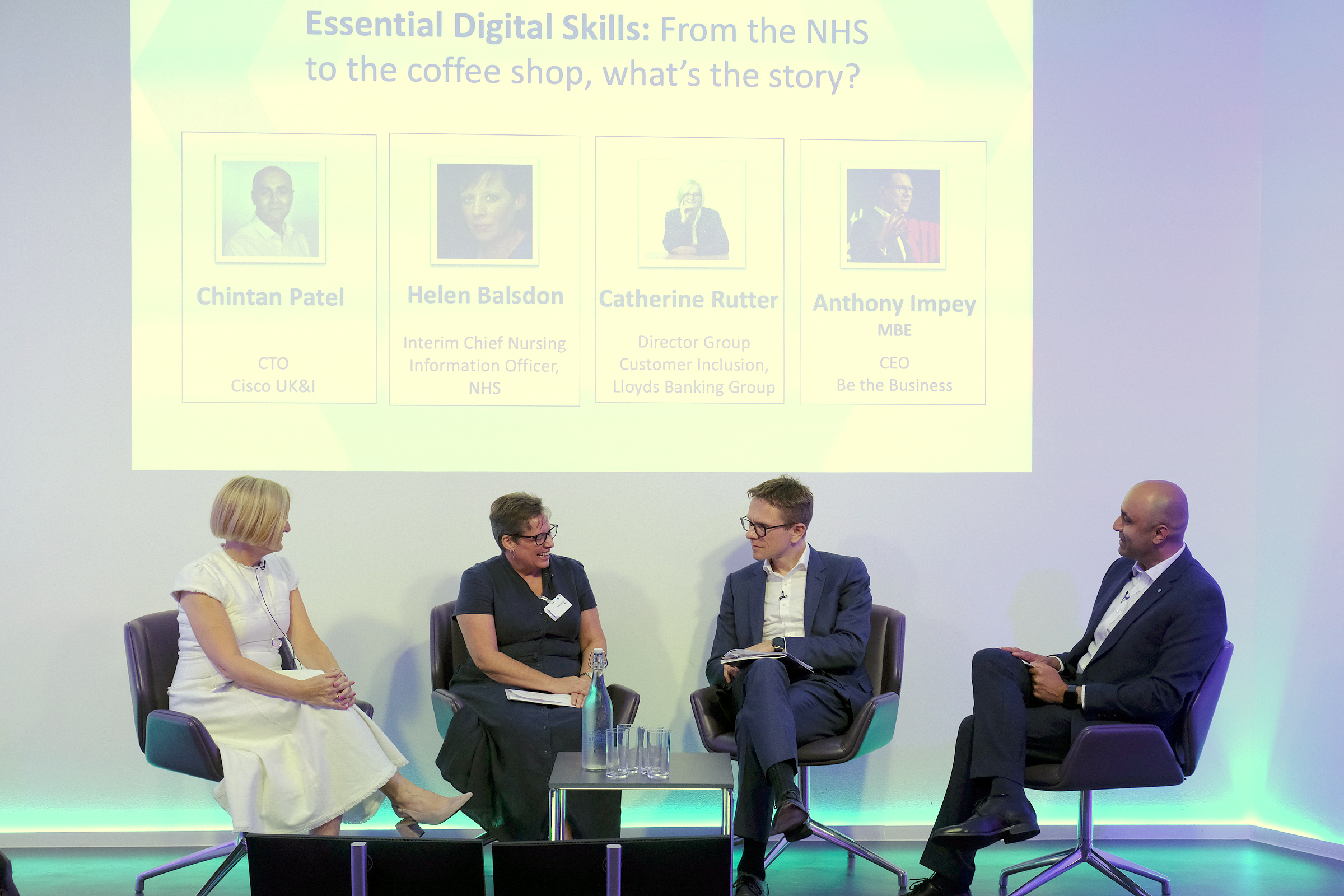 Panel discussion: Essential Digital Skills: From the NHS to the coffee shop, what's the story?
Catherine Rutter (Lloyds Banking Group), Helen Balsdon (NHS), Anthony Impey (Be the Business), Chintan Patel (Cisco).
It was heartening to hear such powerful insights from all our speakers.  About the importance of helping people build the digital basics; the power of the Essential Digital Skills Framework as an asset yet to be fully realised; about how we will only effect change at the scale and pace needed – improving the skills of over 20 million people – by working together, unfettered by organisational lines. And the role behavioural science and culture need to play in forward action.  And such fulsome support for the 10 action steps laid out in our Roadmap.  In truth, I'm still digesting!  There was so much rich content that came from all the panels.  We'll be consolidating it and sharing it later in the summer.   
Playing your part
This roadmap is just the start of the next chapter. It only matters if it leads to action. As I said at the launch, we have no interest in it being another digital skills report gathering dust.   
I'm delighted we are already hearing positive stories around how people are using it to drive action in their organisation; whether to open the door with colleagues on the topic of workplace digital essentials, securing commitment to action to help people build the 20 tasks or to work with FutureDotNow as a partner organisation to make the roadmap to close the workforce digital skill gap a reality. 
We'd love to hear your feedback and how you'd like to be involved in making change happen as we lean in to ensure everyone in the workforce has the digital basics they need to thrive now and in the future. 
Liz Williams MBE is the CEO of FutureDotNow, a business coalition focussed on driving action on workplace essential digital skills.
She is a long-term campaigner on the importance of everyone benefiting from digital technology.  Previously she led BT Group's digital and social inclusion strategies and is Group Chair of the Good Things Foundation, a social change charity operating in the UK and Australia to help people improve their lives through digital.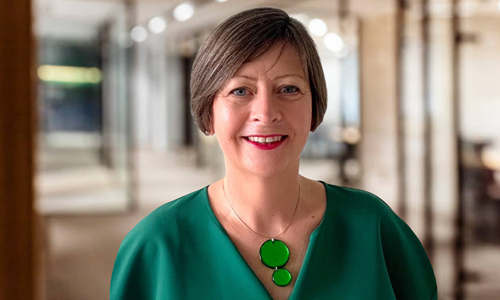 She is a trustee of the London Transport Museum and previously served as a publicly appointed Social Mobility Commissioner leading on digital and the future of work.  
Liz was awarded an MBE for services to digital literacy and social inclusion in 2019 and is a fellow of the RSA. She is also listed in
Computer Weekly's most influential women in UK technology.
FutureDotNow is coordinating industry action to equip people across the UK with the Essential Digital Skills they need to thrive in work and prepare for our digital future. 
The charity is helping businesses understand that a significant proportion of the workforce do not have the digital basics they need for the workplace, and empowering industry business leaders to take action. 
Established in 2019, the coalition cuts across all industry sectors and is more than 200 members strong, convening the reach and influence of industry leaders such as Accenture, BT, Good Things Foundation, Lloyds Banking Group, Nominet, PwC and Salesforce.