We're over a month into the COVID-19 crisis, and the current nationwide lockdown has brought digital skills and access to the fore. At last week's Senior Council, we heard from one C-suite attendee on how digital adoption by the end of 2020 is expected to reach the level previously predicted for 2035. As capability levels change so does the divide, placing even more importance on ensuring everyone is at the digital starting line, equipped with the essential digital skills.
Digital exclusion is the hidden front line in the fight against Coronavirus, and a growing emergency for some of the most vulnerable people in the UK today. It's impossible to effectively shield without a device and connectivity. 250,000 of the 1 million people the government has asked to shield at home do not have digital access and it risks slowing down our recovery. Contact tracing apps will be a big part of how we get out of lockdown, but that relies on being online.
Through our DevicesDotNow campaign, FutureDotNow is coordinating industry action to get devices and connectivity into the hands of people who need them most. We know it's not enough to provide devices without support, so training people to use their new devices is core. I'm thankful to all those who have offered help, with devices, funding and pro-bono support. Our first goal is to reach 10,000 vulnerable people. We'd love to hear from you if your organisation is able to help; if you don't have devices or connectivity to give, you can help by providing emergency funding. You could also help by encouraging your personal networks to get involved. Please keep profiling this important work.
DevicesDotNow was profiled at our first virtual coalition meeting on April 17th. We were thrilled to see so many of you and to get your positive feedback on the content and format. We'll be holding coalition calls regularly going forward, so do watch out for invites. We have exciting plans for the week of May 18th, with our first Digital Skills Week providing short but focused opportunities to explore priority areas including digital motives and tools. Please save the dates, there's more detail below.
Finally, I wanted to say a big HELLO to our new coalition members, and an even bigger THANK YOU to all of you for your continued engagement. Whilst we are rightly focusing a large part of our collective effort on DevicesDotNow during the COVID-19 crisis, we can't lose sight of our core purpose; upskilling the UK workforce. Hearing the stories coming out of the current challenging period is certainly giving me and the team an increased sense of purpose, and your feedback is reinforcing that we are on the right track. Together we can.   Liz Williams MBE, CEO FutureDotNow
Senior Council insights Every six months Sir Peter Estlin, our chair, convenes the FutureDotNow Senior Council bringing together C-suite business leaders to discuss and agree action on the digital skills landscape in the UK and specifically those the FutureDotNow coalition can take forward. 
Last week, we were delighted to be joined by over 20 senior business leaders for an hour of stimulating discussion and debate. You can read Sir Peter's thoughts and reflections in his blog here.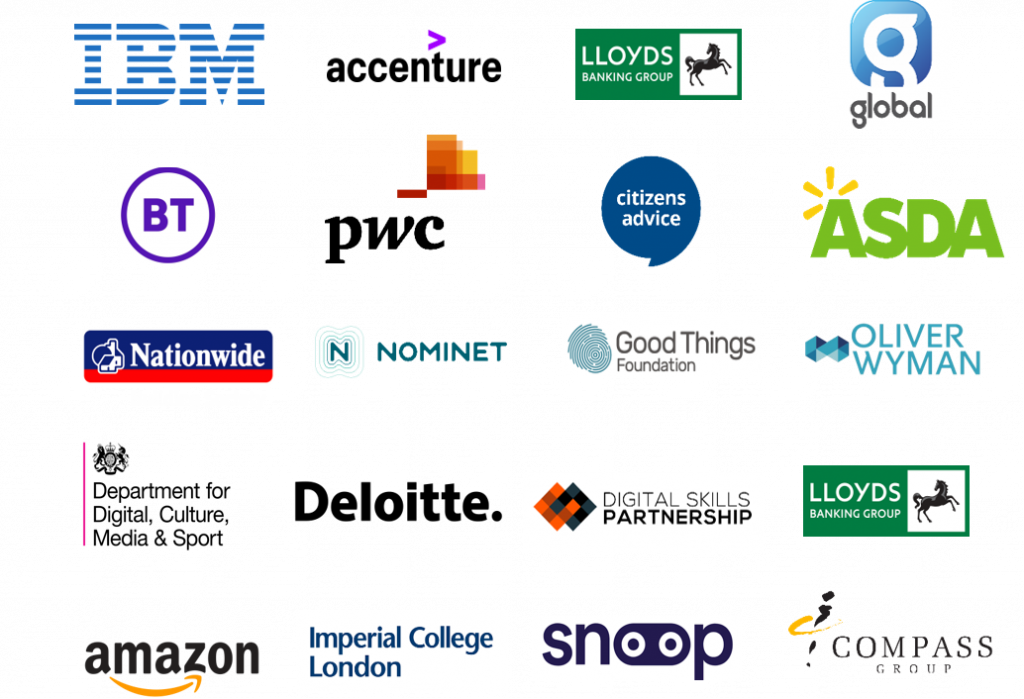 FutureDotNow Digital Skills Week Although we're sad that we won't be able to meet with everyone face to face as planned on May 21st, we're quite excited to be hosting our first Digital Skills Week instead! 
The week of May 18th will see a series of short virtual meetings hosted by FutureDotNow alongside coalition partners. We'll be diving into important strategy areas including motivation, large employers and tools. We'll be kicking off on Monday, 18th of May with a session hosted by our Chair Sir Peter Estlin and exciting VIP guests reflecting on the period since our launch on the 10th of October and doing a bit of future gazing in a post Covid-19 world.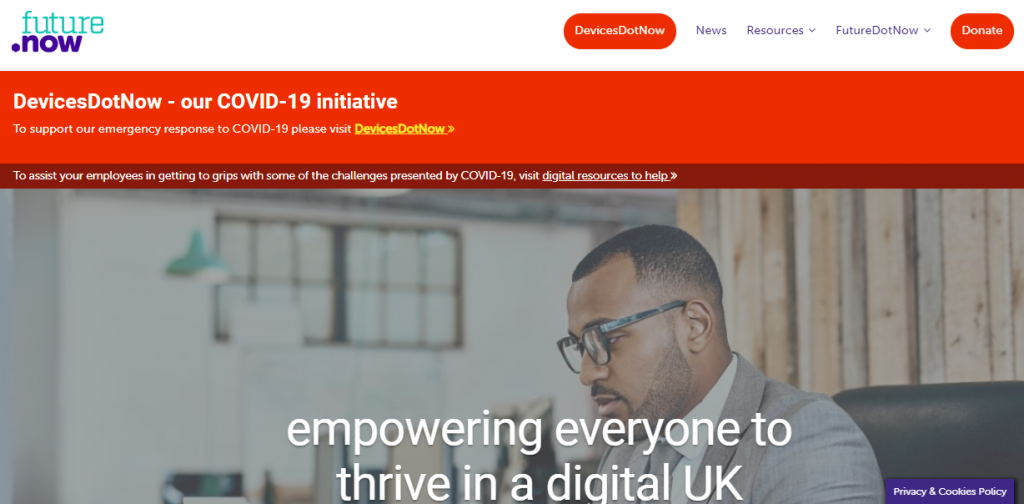 DevicesDotNow DevicesDotNow is progressing at a pace none of us could have predicted. One month in and we've already helped over a thousand people get connected, thanks to the first donations from coalition members BT, Accenture and Lloyds Banking Group. Do take a look at our news page for some of the impactful stories we have heard so far.
DevicesDotNow is a tried and tested solution to the challenge of digital exclusion in the Coronavirus crisis. We have a direct route to the households who are struggling the most. Front line community organisations like the Good Things Foundation are helping households get set up, and then continuing to support them while they are online. And it's backed by government – DCMS Minister Caroline Dinenage has written to 30 UK CEO's asking them to get involved. Our ambition is to reach 100,000 people. Our first target is to get 10,000 of the most vulnerable people online. We urgently need companies to donate emergency funding, devices like smartphones and tablets, or connectivity through SIM cards and dongles. Find out how to support at www.devicesdotnow.uk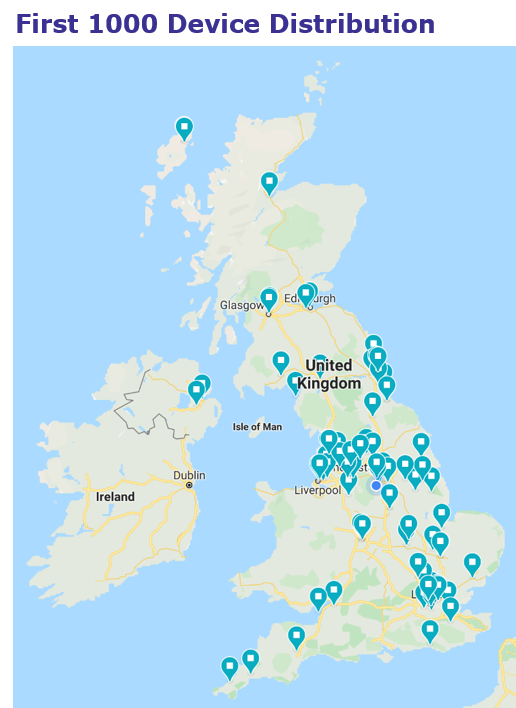 A massive thank you to the organisations that helped us mobilise this emergency response:

News from coalition members 
BT and ITV's Top Tips on Tech: BT has teamed up with ITV to create Top Tips on Tech – a series of videos and guides helping people with valuable digital skills at this tough time – from staying connected with family and friends to staying safe online. The advert takeovers are on ITV twice daily, every week day, and have featured a guide on WhatsApp from Claire Balding and tips for home schooling from David Walliams.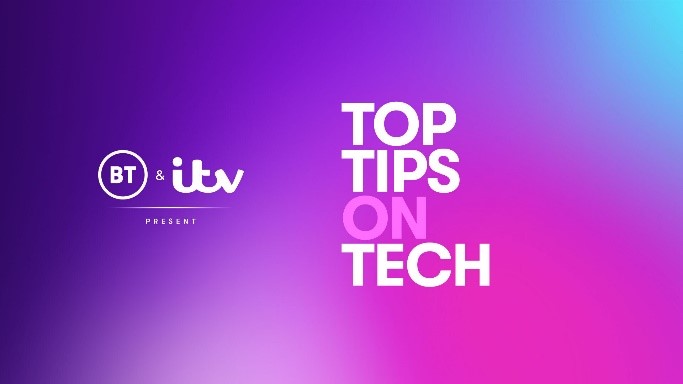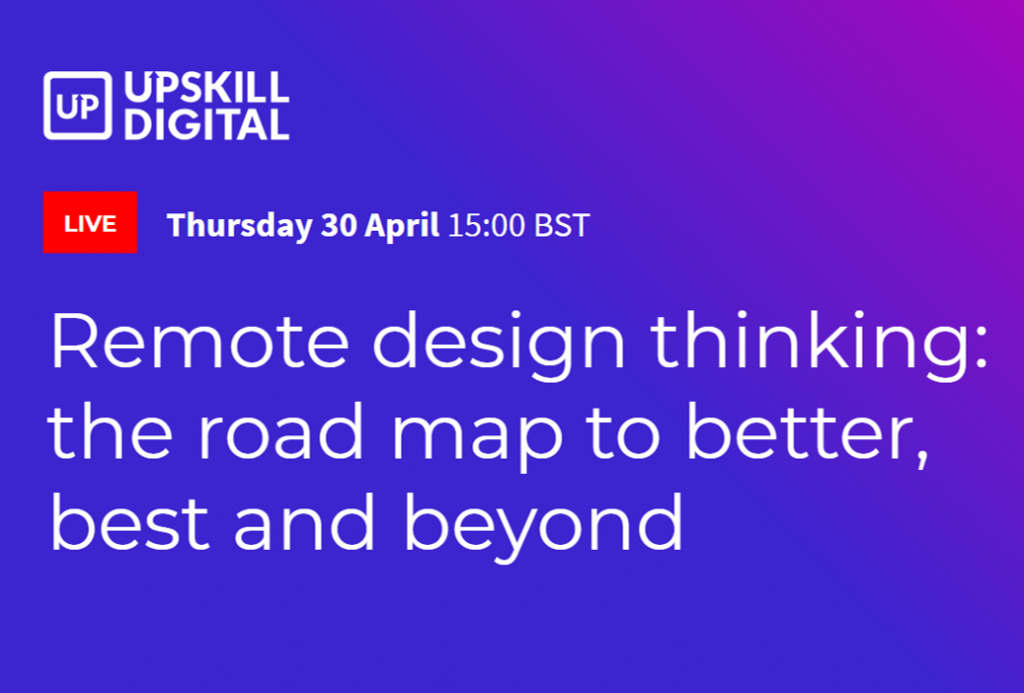 Upskill Digital's free webinars Over the last few weeks, UpSkill digital have developed a series of free webinars to support businesses in readjusting their workforces to working from home and keeping morale high. Find our more: https://upskilldigital.com/upskill-virtual-academy/ 
Hello! We made the decision to step back from proactive work to grow our membership during the immediate crisis, but that's not stopping FutureDotNow! We're delighted to welcome our new members and look forward to working together on our shared mission to ensure everyone can thrive in Digital UK.