Through our member insight work, you've told us what you wanted to cover with us when we meet. So, to make sure everything gets time and attention, we've built a super simple conversation structure that we're calling 'DIGI'. It's is a simple way we can hold a conversation and think about, and plan action on digital upskilling.
We think DIGI is a great addition to the way we work, complementing both the Playbook and Directory. As a team we'll use the approach as part of KIT meetings, in other conversations we're having with you, and also when we deliver events.
Supporting your digital skills journey
A number of you told us that going through the digital skills journey can be a daunting at first. Where do you start? How do you know you're making progress? That's one of the reasons we developed the Playbook – it's easier if that journey is broken down into manageable chunks. DIGI compliments the Playbook, and can be used to breakdown that journey down even more, so you can think about and plan your activity.
Another good way to look at it is having a common language and easy way to capture successes, and to think about how to tackle upskilling challenges.
How does DIGI work?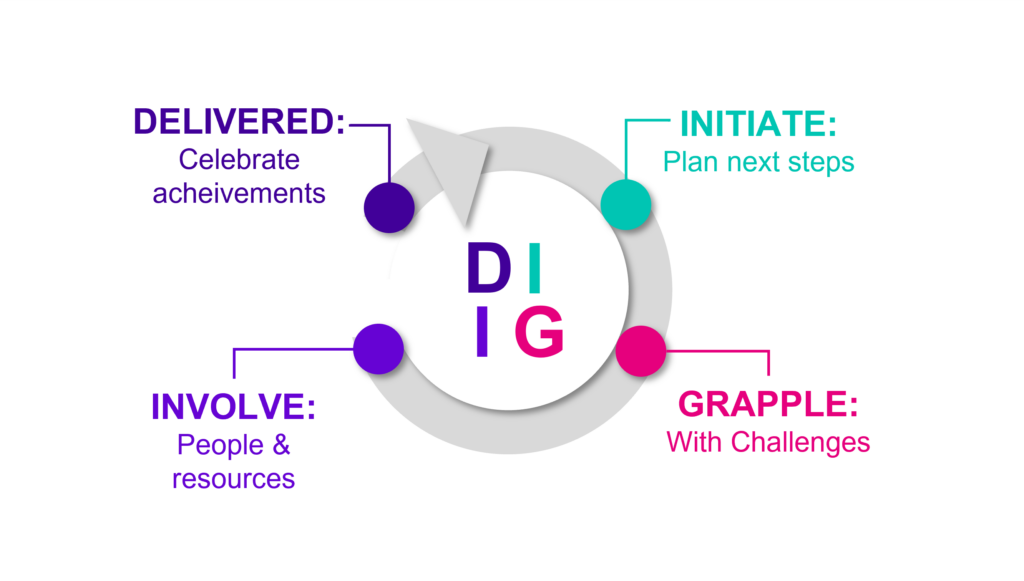 In a nutshell, DIGI covers 4 areas to think about:
'Delivered' – What brilliant things have you achieved and what have you learnt from the process?
'Initiate' – What needs to happen in the next few months, and how will you achieve it?
'Grapple' – What are the challenges you might face?
'Involve' – Who can you help you, and what tools could you use?
So we start by looking back – and celebrating the wins – and then look forward and think about what needs to happen next.
DIGI focuses on a 2-3 month window of time, which helps to make things a little more contained and manageable. You move around the cycle, building a clearer picture of what the next few pieces of the puzzle are and how you might achieve them.
We'd love to hear what you think of DIGI and the KIT meetings, so please let us know your feedback – either during your KIT call or by dropping us an email.